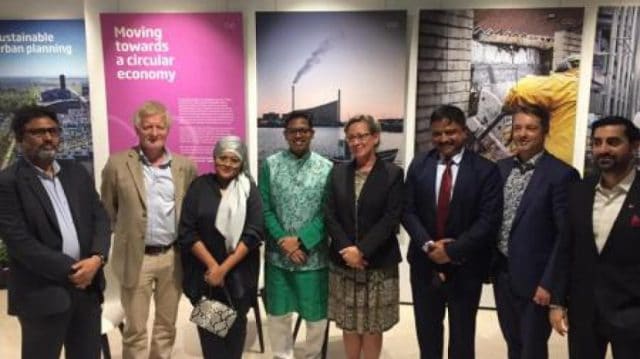 Having decades of experience in green technology, Denmark has offered Bangladesh various ways that can help the climate-vulnerable country with the green transition.
"In Denmark, we have managed to reduce carbon emission significantly by using our innovative technologies, and we do that while creating more jobs in the green sector," said Danish Ambassador to Bangladesh Winnie Estrup Petersen.
"Denmark's ambitious goals to reduce carbon footprint and achieve sustainable growth is globally relevant, especially fast-growing economy like Bangladesh," said the ambassador at the closing ceremony of a five-day exhibition titled "Green Together" organised by the Danish Embassy in Dhaka.
State Minister for ICT Zunaid Ahmed Palak attended the closing ceremony.
"Bangladesh is eager to embrace the green technologies and cut carbon emission. The suspension of 10 coal-based power plants is a huge decision by the government in this regard," he said.
The programme highlighted commercially viable green solutions that can support sustainable and inclusive economic growth in Bangladesh.
As a frontrunner in green economic growth and a leader in clean technologies, Denmark is well-positioned to serve as a knowledge partner for Bangladesh on its journey towards a greener and more sustainable society, a statement of the embassy mentioned.
The exhibition themes included "Sustainable Green Buildings and Future of Urbanisation", "Future of Sustainable Apparel Production", "Sustainable Future of Food" and "Transition to Sustainable Infrastructure".