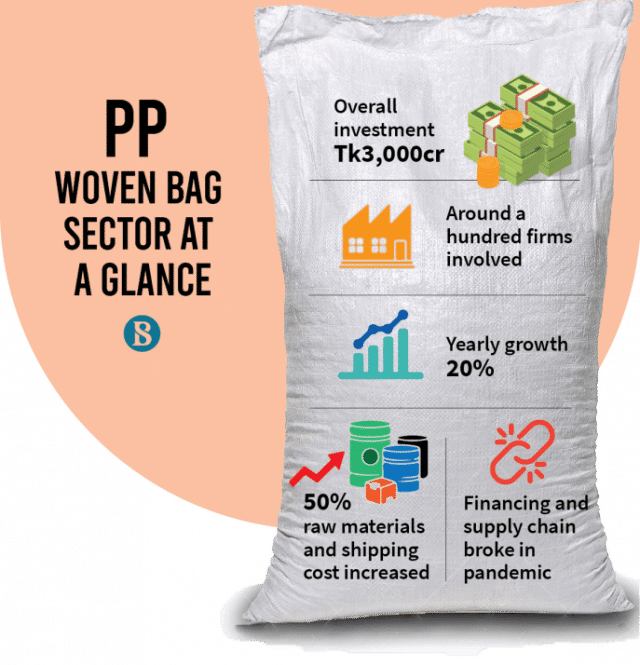 Khan Brothers PP Woven Bag Industries Ltd's business shrank drastically due to disruptions in trade during the Covid-19 pandemic. Although the situation is getting normal gradually, the export-oriented company's business is nowhere near what it was in the pre-pandemic period.
Currently, the company is running on a limited capacity to supply polypropylene (PP) woven bags to local customers, accounting for only 10% of its total production capacity.
Like Khan Brothers, other companies in the PP woven bag manufacturing sector have been struggling to recover their businesses after the economy reopened. A number of these firms have been able to continue their operations partially to meet local demands, but currently, their export volume is very low.
Export has decreased for most companies by more than 50% during the pandemic. Some of them halted operations as they lost buyers.
Besides, last year the prices of raw materials and the shipping cost increased by more than 50% compared to the normal times.
Industries in this sector are engaged in manufacturing PP woven bags, flexible intermediate bulk container bags, recyclable and reusable shopping bags, and tarpaulin bags which are used for packaging cement, poultry and aqua feed, food grain, and seed.
Khan Brothers Company Secretary Tapan Kumar Sarker said their business was seriously affected by the pandemic as it stopped receiving orders from foreign buyers.
The company's management has been trying to continue partial operations to supply to local businesses. Local spinning mills use PP woven bags to package cotton goods.
Khan Brothers has already laid off almost half its workers due to curtailed production, said Tapan.
Many of its skilled workers have switched jobs and the company has not recruited any more.
"We are trying to make a comeback but it needs time," said the company secretary of Khan Brothers.
Tapan said they exported products mainly to Singapore, Norway, and the UK, but these markets are not favourable for the company now.
Golam Rahman, managing director of Deshbandhu Group, said, "The nationwide lockdown to fight the Covid-19 pandemic came out like a bolt from the blue. With salaries and overhead costs to pay, companies like us feared shutdown, and most entrepreneurs were in dire straits."
He said the biggest challenge for the company caused by the pandemic has been the shortage of cash flow. The main cause for this is the decline in sales due to reduced demand and the increased difficulty of obtaining financing.
He further said the shortage of inputs of raw material was the second most common problem for them. It was caused by value chain and logistics disruptions, including the inability to deliver the goods, caused by the Covid-19 containment measures such as border closures, he added.
"To manage the business operations and overcome the tough times of rising costs of raw materials and freight (duty), we simply focused more on managing raw materials, providing uninterrupted logistics support, and ensuring nonstop production by complying with all Covid-related safety precautions," he added.
Razib Kumar Saha, general manager (sales) of Dada Group, said their business dropped more than 50% as the Covid-19 pandemic hugely affected the sector. They could not deliver their products when clients' offices were closed during the nationwide shutdown.
"Now that the economy has reopened, the company is trying to recover its business gradually, but prices of raw materials and shipping cost have gone up. As a result, profit margin, both in export and local sales, has come down," he added.
Shamim Ahmed, president of Bangladesh Plastic Good Manufacturers and Exporters Association, said the PP woven bag industry is still struggling but the companies are trying to recover quickly after reopening the economy.
"We hope that the industry will bounce back to the pre-pandemic trade condition within a few months if the situation remains normal," he added.
Market insiders said the overall investment in this sector is approximately Tk3,000 crore. Around 100 firms are involved in this sector. Currently, the sector is growing at 20% yearly.