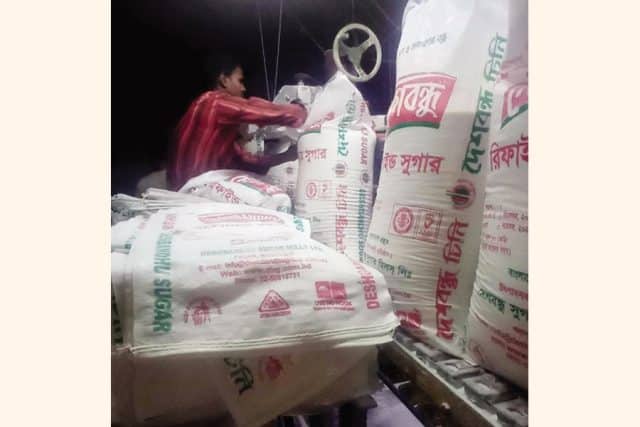 Deshbandhu Sugar Mills Ltd is going to raise its production to 1,500 tonnes a day eying almost an 80 per cent growth next year (2023) to ensure optimum use of the capacity.
Following the move, the Deshbandhu Group has targeted a fresh investment of above Tk10 billion in the country's first privately-run sugar factory, said officials during a visit to its factory in Charsindur area under Palash upazila of Narshingdi district on Saturday.
Meanwhile, a Tk8.0 billion investment in its several factories in 2022 helped the company raise employment by 5,000, said Director (admin) Brigadier General Md Zakir Hossain.
"Like the rest of the world, the economy of Bangladesh was hit hard by the coronavirus epidemic. But our factory has gradually been overcoming the shock of coronavirus as well as the Russia-Ukraine war," he said.
Despite various adverse conditions, not a single worker has lost his/her job since the beginning of Covid-19 outbreak in 2020, he added.
He said rather the company has made a fresh investment of above Tk8.0 billion in the outgoing year in its sugar, food and beverage, sweater, denim, polymer factories which helped generate above 5,000 new jobs leading total employment to 25,000.
Annual turnover of the group has increased from Tk24 billion to Tk 2800 billion with a 14 per cent growth in 2022.
Deshbandhu Sugar Mills, South East Sweater, GM Apparels, Deshbandhu Food and Beverage, Deshbandhu Polymer, Packaging and Deshbandhu Textile Mills got new investments in the outgoing year.
Despite the increase in investment and employment, the expected production and sales could not be achieved amid the Russia-Ukraine war as well as existing criticalities to open L/Cs due to volatility in the US dollar market. A higher value of US dollar is a big shock for the factories as it has been hurting import process of raw materials, says Md Zakir Hossain.
Unabated crisis of gas, fuel and electricity also affected production, he added.
But even after facing all such odds, no company under Deshbandhu Group has witnessed closure, he continued.
Deshbandhu Sugar Mills director ABM Arshad Hossain told the FE during a visit that the company refines 800 tonnes of sugar a day and 0.24 million tonnes annually.
It also supplies 35,000 to 40,000 tonnes of byproduct molasses.
He said they have targeted to import and install new machineries to raise refining capacity to 1,500 tonnes a day to ensure maximum capacity.
Deshbandhu Sugar Mills has so far employed 1,500 people, he added.
Currently, the factory supplies 10-12 per cent of the sugar the country consumes.
Deshbandhu Food and Beverage General Manager Maruf Hossain told the FE that Deshbandhu Group's mineral water has managed to create a huge demand across the country.
Following this, the company invested Tk2.0 billion for further development. Advanced technology and machineries have been imported and installed.
Production is expected to increase by 65 per cent to 75,000 (bph) bottles per hour and employment will further increase by 1,500 people, he said.
He also said apart from the domestic market, Deshbandhu food and beverage are being exported to Dubai, Thailand, Sri Lanka, Malaysia and Greece.